NOTE: I am not sure when the NYX Premium Brushes will be out, it doesn't mention any specific dates on their website, however they are coming out with 24 brushes from contouring to shaping, of course yours truly will keep you posted the SECOND I know exactly when they will be coming out!

Many of you requested a tutorial on the "Green with Envy" look, so here it is!

Eyes:
- MAC Paint Pot in "Rubenesque"
- NYX Chrome Eyeshadow in "Panic"
- Maybelline eyeshadow in "Antique Jade" (I use ALL brands!)
- Mineral Eyeshadow in "Envy"
- Covergirl Liquid Eyeliner in "Blackest Black"
- L'Oreal Telescopic Mascara
- ULTA eyeshadows "Gold Leaf" and "Shell" as the highlight

Lips:
- MAC Lipstick in "Sparks can fly"
- MAC Lipglass in "Underage"

* I put my foundation on before I did my eyes...

Step 1: Apply your eye primer, this prevents your eyeshadow from creasing as well as making your eyeshadow more vibrant. I use Urban Decay's Primer Potion.



Step 2: I then applied MAC's "Rubenesque" Paint Pot and NYX Chrome Eyeshadow in "Panic" to neutralize my entire lid.



Step 3: I then applied Maybelline eyeshadow in "Antique Jade" which is a gorgeous green a little above my crease.



Step 4: Then put my mineral eyeshadow in "Envy" over it to give it more of an "intense", shimmery look.



Step 5: I used Gold Leaf and Shell as my highlight.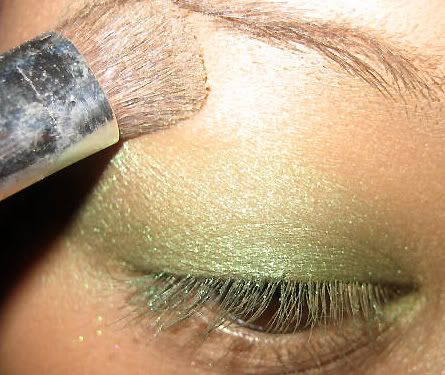 Step 6: Line the eyes...mascara...and line the bottom, I did this with a small eyeshadow brush and just applied the envy eyeshadow on the lower lashline.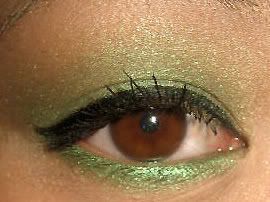 And voila!