I remember picking up the MAC eyeshadow in "Shale" at a CCO awhile back and boy is it gorgeous! I did a fotd last weekend, and surprisingly I just wanted something neutral yet sultry at the same time. One thing I loved about this look was how easy it was, took me only 10 minutes! I also paired it with NYX Lipstick in B52 that sis Lynne recommended!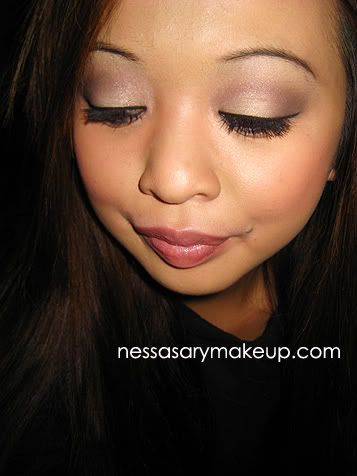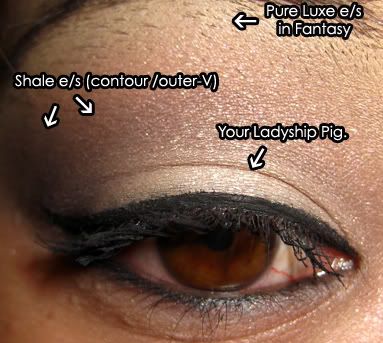 What I used:

Face:
- Camellia Rose Skin Soothing Primer
- MMBB Mineral Foundation in "Medium Beige"

Cheeks:
- Jane Blush in "Blushing Earth"
- Milani Blush in "Luminous"

Eyes:
- MAC Paint Pot in "Painterly" (as base all over the lid)
- MAC "Your Ladyship" Pigment (applied WET/FOILED on lid above lashline and above the crease)
- MAC e/s in "Shale" (plum-brown), on outer-V and contour
- Pure Luxe e/s in "Fantasy" as highlight on brow bone
- Indelible gel eyeliner in "Black Out"
- Lancome Mascara Base
- Covergirl LashBlast Mascara
- NYC Eyebrow Kit

Lips:
- NYX Lipstick in "B52"
- Sephora Lipliner #206
- Avon "Latte" lipgloss

I did my own nails too (natural nails) since I hate acrylics and only get acrylics on "special occasions", but it actually came out a lot better than I thought! Simply because every single time I TRY to do my own nails, I get very impatient and I end up smudging them so they look like my nails were bitten! But this time, I waited for them to completely dry, used a clear top coat (gotta love Sally Hansen), and a nail polish remover pen for any mistakes. I forgot the brand and color of the nailpolish, I have to go have a looksie when I get home.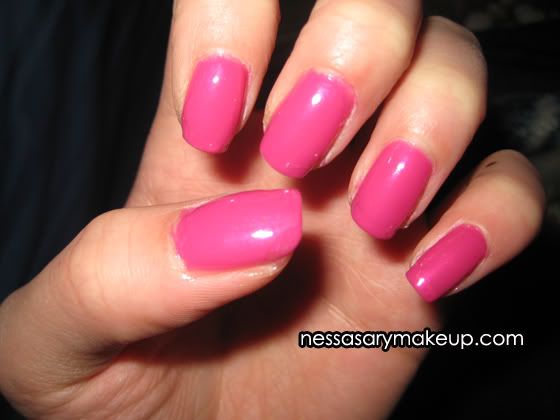 Also, some of you wanted to see the coverage of the Maybelline Foundation, so here it is sans makeup of course! [don't laugh]....stop laughing! haha, as you can see it provides some pretty good coverage and I didn't even use a lot! And yes I purposely did not get my exact shade (to match my neck)since I put my mineral foundation over it, (don't wanna look TOO dark), so I got a shade lighter in Creamy Natural.

Can you tell I just got out of the shower!???