I know, I know, everyone is waiting on the dupe list, sorry it's taking so long, I've been getting sidetracked with questions and requests, and since those are much easier to deal with those go out first; but I want to concentrate on the dupe list, so far I have some picture swatches and a list, but I DO NEED YOUR HELP in compiling everything as there may be some I am missing or if there is another dupe of something, i'd love to know!

Here is a sample of what is to come:

From L to R: MAC Metal-X Cream Eyeshadow in "Goldspice", Milani "Sun Goddess" single eyeshadow (also dupe of MAC e/s in "Amber Lights"), and L'Oreal HIP Pigment in "Progressive"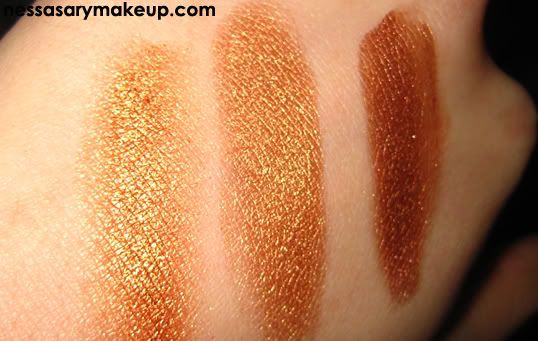 SO LADIES, DO YOU KNOW OF ANY DUPES? IT CAN BE ANYTHING, EYESHADOW, BLUSHES, LIPSTICKS, LIPGLOSSES, ETC., PLEASE LEAVE ME A COMMENT OR EMAIL ME! LIST THE ORIGINAL (THE PRODUCT BEING "DUPED") AND THE DUPE, PLEASE INCLUDE AS MUCH DETAIL AS YOU CAN AS WELL ("MORE/LESS SHIMMERY THAN THE ORIGINAL", MORE PEACHY, ETC.)

I will then add it to the current list of dupes I have so that when it's done, y'all can have a complete AND accurate list! :)

Thanks!