I've been getting some reader questions lately as well as requests, etc., so i'll post most of them here. First of all, I DO read all your emails and comments, it just takes me awhile to get through a batch of them because I work full-time, AND it's just me running this joint, so please be patient as I do try and answer all your questions as fast as I can as well as fulfill any requests you gals have.

Also, regarding PRODUCT REVIEWS, I know as soon as I get a haul some of you want a product review right then and there, but I avoid doing that because I have this thing where I have to give ANY product a "few runs" to really see how it's working. Also I have to test it out under different conditions (example: with or without primer, after a workout to see its lasting power, etc). This allows me to give you all a more accurate review of the product, rather than saying "I loved it" and then 3 days later it made me break out....so please understand that I can relate to y'all as I am impatient too, but just give me some time to hammer them out. Thanks!

So here are some of the things I wanted to address based on your questions:

1. MMBB stands for "My Minerals Bath & Body", which is my friend Lisa's site, Mymineralsbathandbody.com.

2. The NEW REVISED DUPE LIST- Ahhhh yes. I have been getting MANY requests for a more revise list of dupes. Believe it or not, I AM working on it, because there are so many products and colors to compare the real thing to, it's taking me longer than anticipated. Also I am trying to include as many dupes as I can including blushes, lipsticks, etc., rather than just eyeshadows. The most recent dupe is MAC's "Parrot" eyeshadow it is eerily similar to Covergirl's Single Eyeshadow in "Aqua Paradise", I think moreso than the L'Oreal HIP eyeshadows I've been seeing. Hopefully it'll be done before the end of this month, hang in there!!!! :)

3. If you see a FOTD featuring a MAC item you cannot find on their website, it is most likely because I purchased it at a PRO store.

4. Daily Skin Care Regimen- Thank you ladies who complimented on my skin, I know some of you wanted to know my daily skin care regimen, I have since changed it from the last post and I will be posting my new regimen very soon!

5. EDM (Everyday Minerals) Foundation- I have had a lot of questions about their foundations and my take on it, I don't like their foundations since none of their shades match me AND I personally found it to be a bit cakey and "melty" at the end of the day, but that is just my opinion.

6. What is your ethnicity? My dad is Filipino/Chinese and mi madre is Hispanic and French Canuck (Canadian), I look more Asian out of my 2 other sisters, while my 17 year old sister looks more "western", tons of people think she is Mexican and think we have different parents. I also can read and understand Spanish. Y sí que puedo leer y escribir en español.

7. Mineral Makeup Sites Shipping Policies- Some of you have been asking me about shipping policies of mineral makeup sites, truth is, I am NOT the owner of these sites, I am just a beauty blogger and I reside in the United States; therefore shipping isn't something I usually worry about, but in any scenario, the best thing is to actually CONTACT the website themselves and see what their shipping policies are (if they ship internationally), many mineral makeup sites have FAQ's where you can find that information. If you do not hear from them, then why do you wanna do business with them anyway right?
__________________________________________________________________________________

PRODUCT REVIEW- Maybelline Liquid Mineral Foundation, $8-$10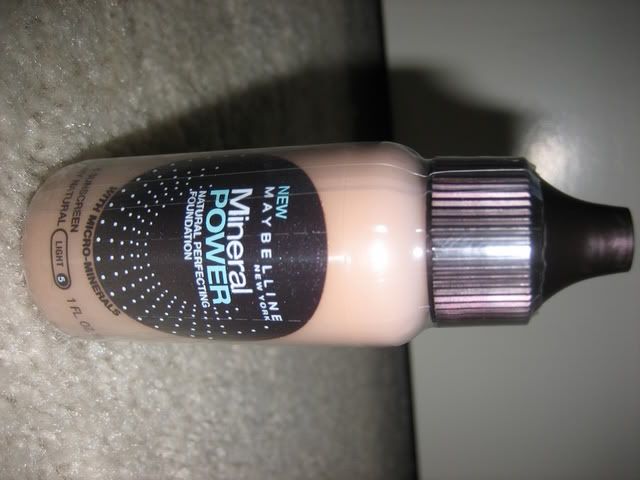 Ingredients: zinc oxide, polyethylene, boron nitride, dimethicone, PTFE, synthetic wax, acrylates copolymer, lauroyl lysine, cetyl dimethicone, alow barbadensis/aloe barbadensis leaf juice, trimethylsiloxysilicate, trisocetyl citrate, isopropyl titanium trisostearate, tocopheryl acetate, panthenol, chamomilla recutta extract/matricaria flower extract. May contain: mica, CI77891/Titanium dioxide, CI77491/Iron oxides, CI77007/ultramarines

Product: 5 out of 5 stars
Packaging: 5 out of 5 stars
Overall: 5 out of 5 stars

What I liked about it: It was very light and not heavy feeling like I thought it would be, I love the packaging which reminds me of like a dropper of some sort, the narrowed tip makes application very mess-free, and I love how I don't have to worry about the cap magically unscrewing itself in my makeup bag or travel bag. It was also a great addition to my mineral foundation (powder), giving me a nice natural airbushed look. I applied it using a taklon bristled foundation brush, and then applied my mineral powder foundation with a buffing brush OVER it. Works great without and with primer. For $9 a pop, it's awesome. I chose "Creamy Natural".

What I hated about it: Nothing really, it's an awesome product, and it's a drugstore brand!

Overall: I really enjoyed this product and I am not too big of a fan on liquid foundations since I have sensitive skin, but it works great!