Ladies, I know as much as we love makeup, there are days where we simply don't have the time to primp ourselves, or because we just want something simple, classic, and natural.

I did a look long time ago for a shoot, and although I was offered a makeup artist, I opted out and wanted to do it myself...there are only a couple of makeup artists I actually trust, one of them being makeup vixen Katie B. She knows exactly what I want, or what look would suit me best. But for this particular shoot which was just headshots, I wanted something that wouldn't be too much, something natural.

So this look was super easy and I think it's great for wearing to school, work, and switching it up at night to a sultry, smoky look by just adding eyeliner on the lower lashline and smudging it. (my hair was burgundy/deep purple at the time despite the fact it looks dark brown in this pic...and VERY healthy because that's when I WAS taking care of it, lol)

The lips of course are also prominent, and very natural. And what's better? I used ALL DRUGSTORE brands for this look!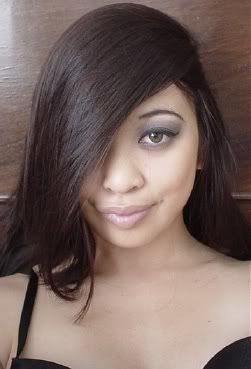 What I used:

Face:
-I believe it was Maybelline's Dream Matte Mouse at the time (don't remember the shade, I think it was like a creamy natural)

Cheeks:
- Revlon Blush in "Blushed"

Eyes:
- Revlon eyeshadow in "White Whisper"
- Isadora eyeshadow palette (don't remember the name) but it was a dark gray color, so you can improvise :)
- Milani Quad in "Earthy Delights" (the antique gold color)
- Revlon Colorstay Liquid Eyeliner in "Blackest Black"
- L'Oreal Telescopic Mascara in "Blackest Black"
- Revlon Colorstay Pencil eyeliner in "Black" smudged a bit on lower lashline
- Eyebrows: Sephora Pencil

Lips:
- Concealed lips with concealer
- Sephora Lip Pencil #206
- Neutrogena Lipgloss in "Coy"

**EDIT** someone commented saying it was not a natural look, but the title of this post also includes MINIMALIST, meaning comparative to other looks i've done, this is quite subdued, MINIMAL, and soft. This look doesn't take long, and many of the things I have used are optional (as all the other looks i've), so you can substitute things or not line the lowerlashline, whichever you desire, I just listed what I used for this particular look. Natural is organic, hence meaning NO MAKEUP at ALL (and if that were the case then there would be no need for a makeup blog, therefore a natural LOOK consists of very light makeup application and little effort to LOOK natural). :)