Wow! Looks like many of you ladies are in search of a GPS! haha, some of you asked me which portable GPS I have, it's the GARMIN NUVI 350, and it comes with its own carrying case, the BF knows I get lost all the time, so I was really happy he got it for me a couple of Christmas's ago...and yes, I DO love hand helds and gadgets! I don't know why but I am really into electronics and games, glad you ladies pointed that out from "What's in my purse". And I do love the iPhone! It's the best phone i've had, it's really a one-stop shop for me, I can check weather, maps, email, go online, watch YouTube, ALL on it! So it's my "window to the outside world". I had a T-Mobile MDA phone before, and it was cool for a hot minute, but then I never got reception and couldn't go on certain websites.

Anyway, I did a look today with luscious pink lips because I was itching to do a FOTD using the Lancome Lipgloss in "Seashell" I just got, I am in love with that gloss! It's super pretty, yet the perfect pink and sheer at the same time! I can't wait to pair it with the "Desert Pink" lipstick I am waiting to get!

I kept the eyes REALLY, REALLY neutral, using "Provence" pigment and two eyeshadows, and I played up the cheeks with Milani Blush in "Cherries on Top" to match the lips.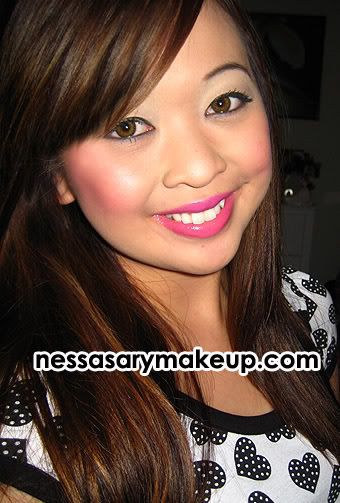 MAC l/s in "Up the Amp", with Lancome Lipgloss in "Seashell"



What I used:

Face:
- Camellia Rose Skin Soothing Primer (love this stuff! review coming soon!)
- MadMinerals "Medium Golden" Mineral Foundation

Cheeks:
- Milani Blush in "Cherries on Top"

Eyes:
- MAC Paint Pot in "Soft Ochre" as base all over lid
- MAC "Provence" Pigment all over the lid
- Milani e/s in "Almondine" on lower half of the lid just above the crease
- MAC e/s in "Patina" (my favorite neutral eyeshadow) on outer-V and contour
- Revlon Colorstay Eyeliner in Black
- Covergirl LashBlast Mascara
- NYC eyebrow set

Lips:
- MAC lipstick in "Up the Amp"
- Lancome Lipgloss in "Seashell"

Also, Aquadisiac wanted to see swatches of the Jane Blush in "Blushing Earth" and the Milani "Luminous" Blush as I found them to be strikingly similar...the Jane blush was more shimmery and peachy, and "Luminous" had a slight shimmer but more of a salmon pink/peach.