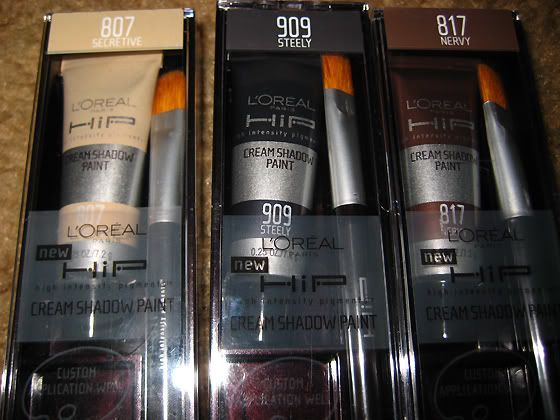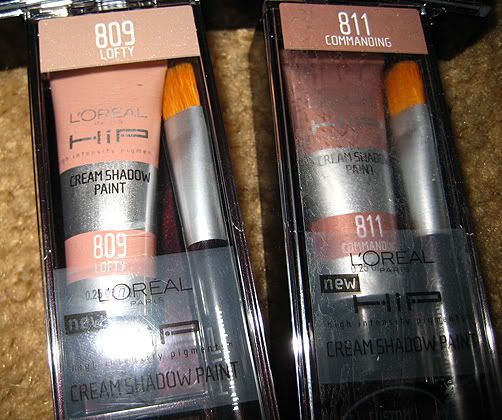 So first I hit up CVS, so today I had to hit up Walgreens to see the new goodies they had in store, especially after seeing sis Lynne's review on the new 2008 collection by L'Oreal featuring HIP Paints (similar to MAC Paints), I had to see it for myself. Physician's Formula is also coming out with TOTALLY organic and natural makeup (i'll upload the pic later).

And you know your boyfriend really loves you if he is driving you to like 3 CVS's and a Walgreens, lol. He was like "What are you looking for?" And I was like "I got to find this thing for my readers", and he was like "Drugstore makeup!?" Little does he know how far drugstore makeup has gone, how much they have changed. As much as I use MAC, I am still faithful to my share of Revlon, Covergirl, Milani, NYX, and L'Oreal. I just use a lot of MAC in my FOTD's because I seriously have TONS of MAC products I need to use them all!

So I ended up getting 5 out of the 6 paints, the one I didn't get was "Witty" because it looked similar to the MAC Metal-X eyeshadow I bought in "Goldspice", so I passed on it.

I bought (from L to R): "Nervy", "Lofty", "Secretive", "Commanding", and "Steely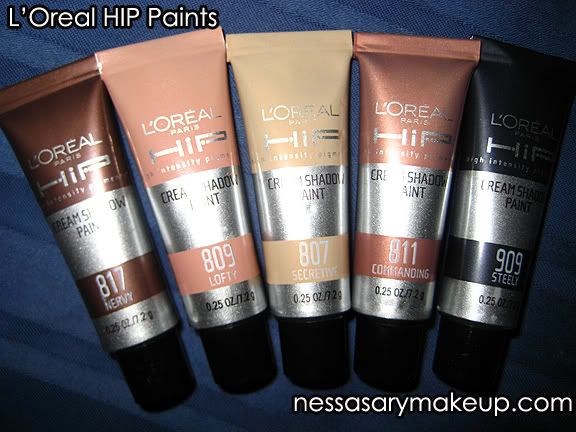 Now pay close attention because I am going to give the most in depth review on these:

Swatches (first pic with FLASH)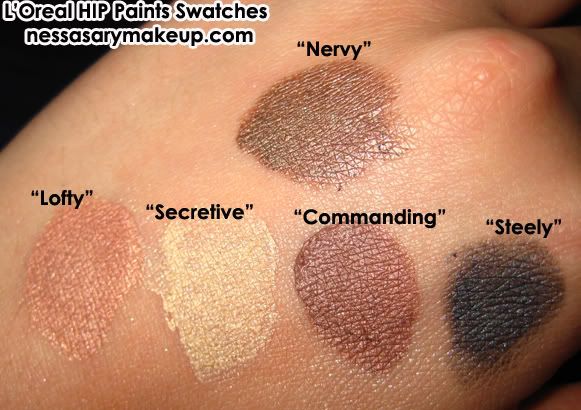 Room light:



Bathroom light (tungsten, most natural setting):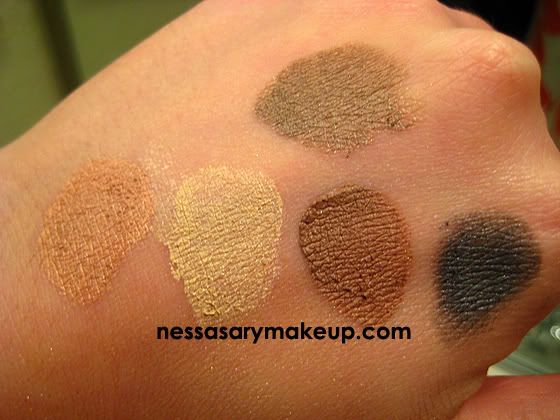 First impression: They really are an awesome dupe of MAC Paints at first glance, they are in similar casing, and almost the same size.

Testing phase: I swatched them on my hand and noticed they were very creamy. I was worried that they were TOO creamy in the sense they would crease or come off, but once I let it dry (a minute or less), it seriously STAYED ON, did NOT budge, rub off, nada. I even washed my hands and it was STILL on my hand. On top of that, it was dry and smooth, not flaky, allowing me to put eyeshadow over it, which means it also makes a great BASE.

My favorite colors are: Lofty, Secretive, and Nervy.

Dupes observations: Now these are not exact dupes, but pretty close to it (I am at the BF's house so I do not have the real thing in front to compare to but I am basing it on memory here)...

Lofty- More of a pinkish version of Painterly with subtle shimmer, or lighter version of MAC "Canton Candy".

Secretive- Very similar to MAC Paint in "Bare Canvas", I currently have Chiaroscuro which is a light taupe/beige.

Nervy- Reminds me of MAC "Groundwork" Paint Pot, awesome bases for brown eyeshadows or for a neutral look.

Steely- Reminds me of MAC "Blackground" Paint Pot, or MAC Shadestick in "Sharkskin". Looks navy blue in certain angles/lighting. Great base for the smokey eye or dark looks.

Commanding- To me, it's a cream form of "Gold Stroke". Has reddish-brown tones to it.




Compared to MAC Paints: I have not done a look with the HIP Paints yet, so I don't want to be too premature to say much about it just yet, BUT off the bat, I think it's a great alternative to the MAC Paints, and of course it's cheaper too. So for gals on a budget and want to try something new, I highly recommend it. I think ALL the colors go great on all skintones and ethnicities as most of them are earthy/neutral colors.

Staying power on the HIP Paints is incredible, it'd comparable to the MAC Paints in regard to staying power, because it really did NOT come off my hand!

LAST WORD: I will do a look soon using them, so far so good, they look very promising. They may be hard to find because not all stores are carrying the newest collections yet, so call your local drugstores such as CVS, Rite-Aid (has an awesome cosmetics return policy!), Walgreens, and Wal-Mart.

Also, they had new INFALLIBLE lipglosses that supposedly last 6 hours. I bought "Undeniably Mauve", put it on and it's a gorgeous color, I ate some cheesy tots from Burger King, ate some donuts, and here's are some pics below before and after I ate. :)

I will do a review on this soon also, as I did not wear it long enough to see if it really does last 6 hours. I did notice however it was a bit drying (as with most stay on lipsticks/lipglosses).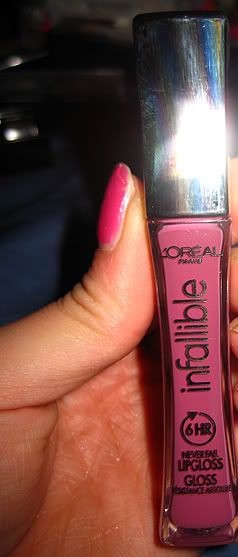 RIGHT WHEN I APPLIED IT:



30 minutes later after I ate some Cheesy Tots!