Q: Hi there. I just found your blog the other day and I'm loving it! I think you do a great job with your eyes. I'm not quite comfortable with colors yet so I'm totally jealous of your ability to wear color nicely. Anyway, I have a question and was wondering if you have the answer to it. I love the texture of cream shadows but don't know how to keep it from running off my face or causing the liner to smudge. I prime my lids with foundation and I use fluidline to line my eyes. What's the best way to make the shadow stay intact and the liner from shifting down my face? Is the only option to forget one or the other? Please recommend budget friendly items if you can. Thanks.
_______________________________________________________________________________

A: Thanks for the compliment, glad you are enjoying the blog! I've always loved rainbows, and every color on the spectrum, and loved playing around with different colors and textures like matte and shimmers. You'll be surprised how many looks you can come up with just using 3 colors of eyeshadow.





To answer your question on how to keep your eyeshadow to stay on your lids and last:

I LOVE, LOVE, LOVE MAC Paints!!! Let me tell you how absolutely AWESOME these are, there is no other brand on the market that is remotely close to MAC Paints. These eyeshadows go from creamy-to-powder, and is VERY easy to apply. The staying/lasting power is UNBELIEVABLE, lasts all day. I personally squeeze a little from the tube onto my finger, and apply it to my lid, then I take a FLAT Concealer Brush and push down and spread (like putting butter on bread), till it covers your entire lid. I use it as a highlighting eyeshadow UNDER my eyeshadow, so I apply it all the way to the brow bone.

I personally have Chiaroscuro, and am waiting to get "Stilife" and "Canton Candy". I also like "Bare Canvas", but it's almost like the Chiaroscuro.

Each tube is about $16, BUT TRUST ME, it is worth it, it lasts a long time, AND it stays on all day for me.




For perhaps a cheaper similar item, I also like Flirt! Cosmetics Eyeshadow Mousse ($10, KOHLS), I love "Sand Castle" and "High Maintenance", those also last a really long time and have a nice subtle shimmer to them, however they are a bit creamy, so be sure to let it dry before applying your eyeliner. Also, try using a liquid eyeliner instead of a pencil eyeliner, as pencil tends to smear with a mousse eyeshadow.

Closer look of the shade "high maintenance" (it's more of a deep purple/burgundy with brown shimmer tones):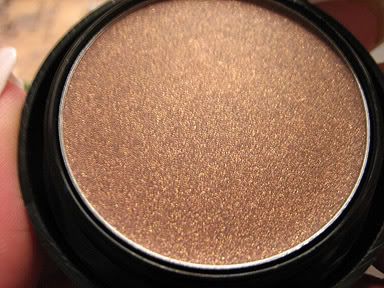 For best results, use with "Model in a Bottle", a finishing spray that sets your makeup to prevent smudging, touchups, even from tears and sweat!