The following products, are stuff I have actually used and cannot live without! (In no particular order):

1. Laura Geller's Spackle Trio ($30, Sephora)
I love this baby, it is perfect when I travel, it's a face, eye, and lip primer in one! You can read my original post on it HERE




2. Blistex DCT (Daily Conditioning Treatment) Lip Balm ($2.39, Walgreens)
During the winter, or the bad habit of licking my lips, my lips get so dry and flaky, but as soon as I put some of this miracle in a pot, they are healed! *TIP: Use a toothbrush as an exfoliate and brush your lips with the balm on to get rid of the dead skin.



3. Dickinson's Witch Hazel Astringent ($4, drugstores)
This is one of the oldest forms of skin-care, at night before bedtime and in the morning, I use a cotton ball and sweep this stuff all over my face, and I have no pimples and clear skin! The only CON I have, is that it doesn't smell nice at all, but I've been using it for years so I am used to it already.



4. Revlon's Makeup Concealer Compact with SPF 20 in "Nude Beige" (discontinued I think)
I love this concealer compact because it's easy for me to dip my sponge and pat under my eyes to conceal any dark circles, lasts a super long time, has SPF20, and stays on!




5. Aveeno Ultra Calming Moisturizer for Sensitive Skin ($13, Target and drugstores)
I love this moisturizer as it soothes and calms skin, getting rid of redness, and it's natural oatmeal extracts is what I love.



6. Rimmel's "Dare to Bare Luminizer" in "Keep It Real" ($6-$7, Wal-Mart)
This luminizer is perfect for that summer glow. I mix it in with my liquid foundation to give my face a bright, shimmery, sun-kissed look. It's great alone on your arms and skin for a night out on the town!



7. Conair Instant Heat Curling Iron, 1 1/2 Barrel Size ($12 and up)
I have used this curling iron since I was like 15, and surprisingly it still works and does it's job, given how cheap it is. I love how I can create beachy waves, or tight curls.



8. Infusium 23 Leave in Conditioner (ranges from $7+)
Since I curl my hair a lot, and gets dry at times, this leave in conditioner brings back all the moisture to my hair keeping it thick and silky smooth.



9. Revlon's Colorstay Eyeshadow in "White Whisper" and MAC's Eyeshadow in "Vex"[not pictured] and MAC PAINTS($7, drugstores, $14.00 and $16, MAC)
I cannot live without these 2 eyeshadows because they are solely my highlighting eyeshadows and they hold onto the other eyeshadows very well when I create swatches of color.



10. Model in a Bottle ($18)
I previously blogged about this one, it really does keep my makeup on to last all day with just a few spritzes. It might burn if you put too much on...



11. Max Factor "Maxalicious Glaze" in "Stood Him Up" ($6, K-Mart)
This gives me just the right of pink I want, and feels so smooth on.



12. NYX Loose Pigment Ultra Pearl Eyeshadows (similar to MAC Pigments), ($2.99, Amuse, also an online item)
I love mixing colors and these eyeshadow allow me to create wonderful shades like you see in my Eye Makeup Photos.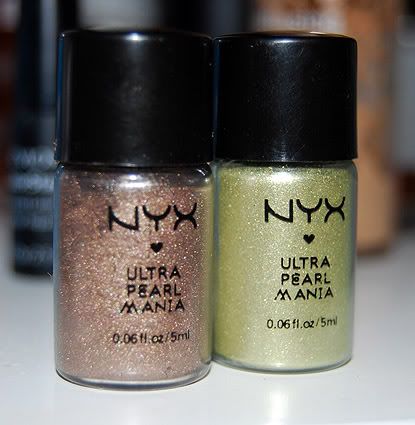 13. Revlon's Colorstay Eyeliner in "Blackest Black" ($7+, drugstores)
Lasts all day, doesn't flake, love the brush as it allows me to create thin or dramatic lines, easy for me to control.



14. Lumiere Flat Top Brush for my Everyday Minerals Makeup ($16, lumierecosmetics.com)
This brush is perfect for applying my mineral foundation, it applies it perfectly where I want it with no mess!



15. Essence of Beauty Brushes (CVS) and my Sonia Kushuk Brushes (Target)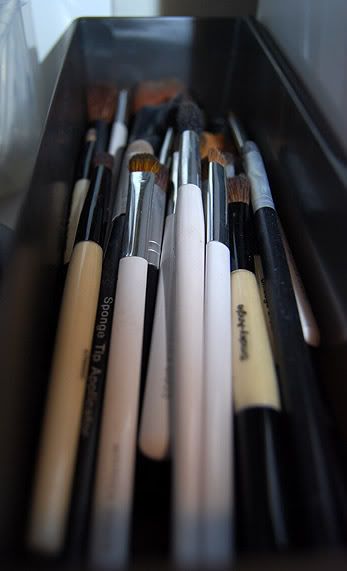 16. Everyday Minerals in "Light Olive" (everdayminerals.com)
Natural-feel foundation, no heavy coverage feeling, yet a tiny bit gives you complete coverage!