I've had a lot of emails about brushes and what brushes do what, so I broke it down a bit for you ladies, I didn't include ALL my brushes but just the main ones.

THE FACE BRUSHES:


From left to right: Essence of Beauty Baby Blender Brush, MAC 180 Small Buffer Brush, Lumiere Cosmetics Flat Top Buffer Brush, EM Duo Fiber Brush (equivalent to MAC #187 brush), Coastal Scents Large Flat Top Brush, Fan Brush

Let's start with the face brushes. I personally spend more on face brushes because those are the ones that go on my face, and since I have sensitive skin, I don't mind spending more on a good brush that doesn't irritate my skin. Like I mentioned in my previous posts, I am currently in love with the MAC Buffer Brush (#180), it really does the job and allows me to build my desired coverage for my mineral foundations. The Lumiere Brush I use to get into hard to reach spots, or to simply wipe off any eyeshadows that falls on my nose or cheeks, the fan brush is good for that purpose as well. I like the Essence of Beauty brushes, they are really soft for a great price and they have not failed me yet (available at CVS Pharmacies).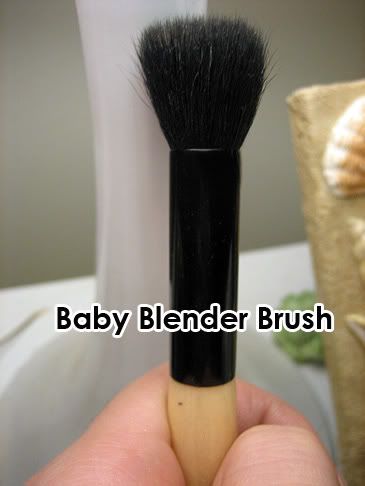 Their baby blender brush is good for blending larger areas, even the entire eyelid. I like to use it to also get into hard to reach places like the sides of the nose, or to highlight. The MAC #187 Duo Fiber Brush (or any similar duo fiber brush) is PERFECT for picking up the right amount of powder, I personally use it for my MAC MSF's (mineralized skin finishes), it picks up just enough powder for me to highlight my forehead, cheeks, and nose without making me look overdone. I love it!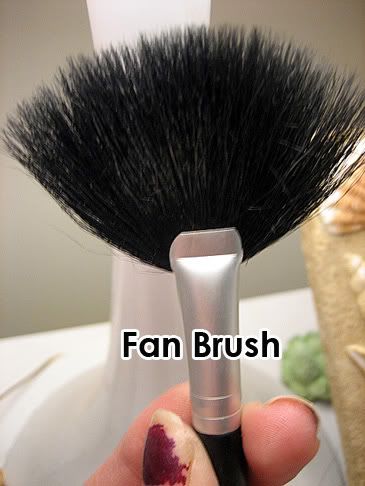 Rule of Thumb: When using your moisturizer and primer, let each one dry before applying your foundation to avoid blotchy areas or patches.




The kabuki brush is a lot more dense and usually has a large wide head. It picks up a lot of powder in one sitting and hence gives you fuller coverage right off the bat, rather than allowing you to build your desired coverage.

THE CHEEK BRUSHES: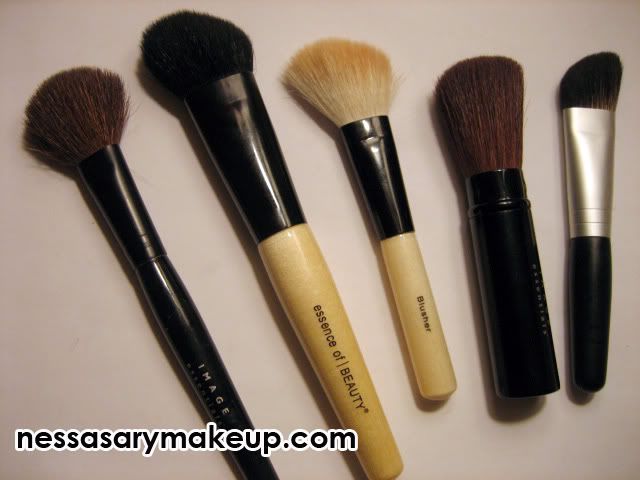 From left to right: Essentials Blush Brush, Essence of Beauty Angled Contour Brush, Essence of Beauty Angled Blusher, Essentials retractable powder brush, Small Angled Contour Brush




I use the Essence of Beauty Angled Contour Brush (second from the left) to apply blush to my cheeks sometimes, but mostly to contour my face such as under the chin and and jawline. MAC #136 brush also does the trick. The one next to it, the Contour Brush w/the white bristles I also use for my cheeks. The retractable brush is for my purse, and the small angled contour brush(nose shading brush I call it) I use to shade and sculpt the sides of my nose using MAC Blush in Strada (most people use Emote, but I am fairly light). [see pic below]




THE EYE/EYESHADOW BRUSHES: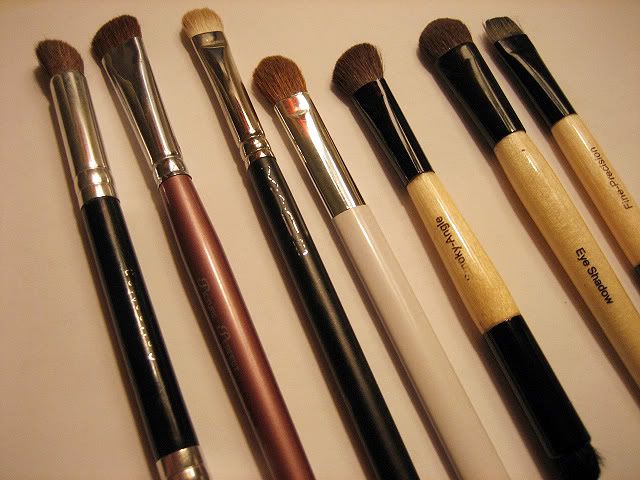 From left to right: Double-Ended Fluff Brush (Flat paddle/Slanted Fluff), Eyelid Shading Brush (Coastal Scents), MAC Brush #239, Sonia Kushuk Concealer Brush, Essence of Beauty Travel Brushes (the last 3).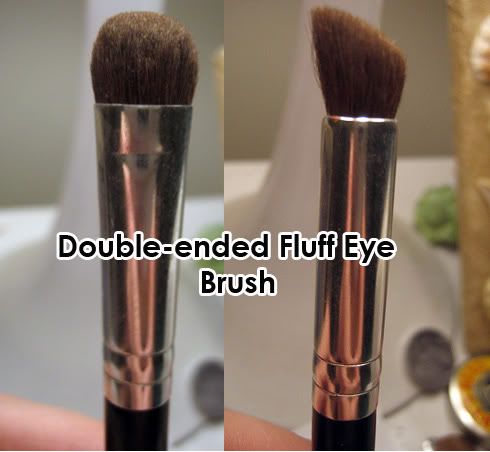 The double-ended fluff brush is awesome because well--it's double ended! I use the flat round tip paddle brush to apply a neutral or highlight eyeshadows on my entire lid, and the slanted tip for the Outer-V.



I love MAC Brush #239 because it's great for applying pigments foiled (wet). Hard to clean though, but nonetheless, great brush.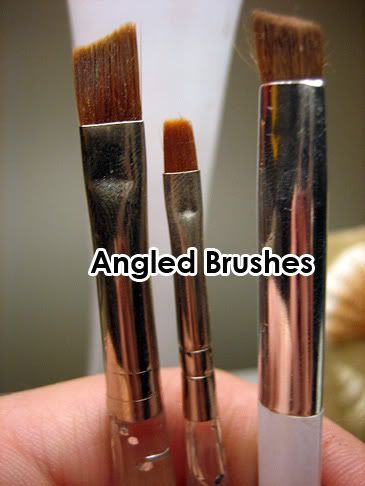 The ANGLED BRUSHES are great for the Outer V as well, or applying eyeshadow from the inner to the outer corner of your eye. They also give a lot of depth to your eye.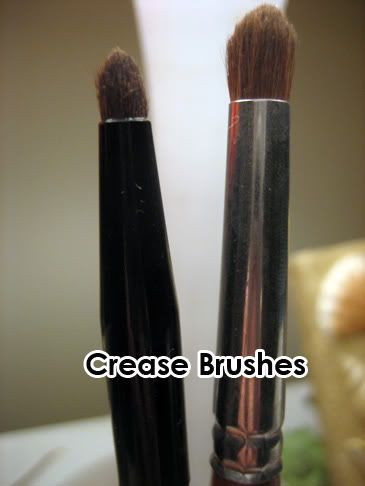 The CREASE BRUSHES are great for applying a wide range of color on your crease line or outer corner, the tiny Essence of Beauty crease brush is great for contouring the eye.

THE BLENDING BRUSHES: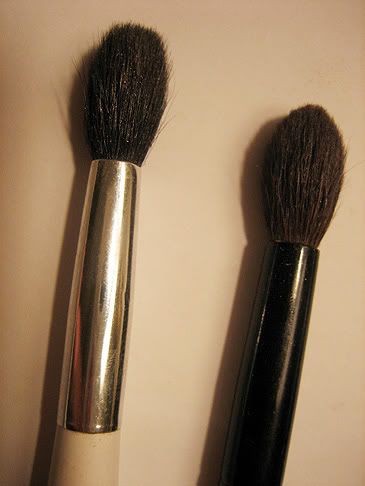 Sonia Kusuk Blending Brush and Sephora's Rounded Crease Brush

These brushes similar to the MAC #217 brush, are the tools I use to blend colors together so there are no harsh lines whatsoever. I cannot live without these brushes!

CONCEALER BRUSHES: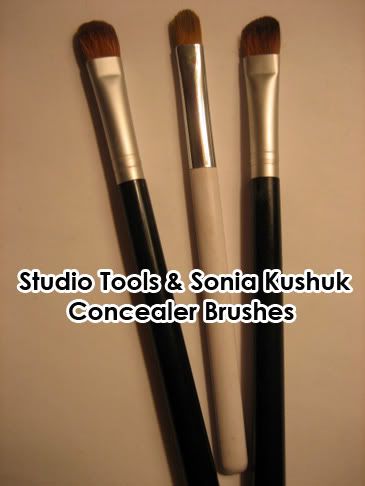 I use Studio Tools Concealer Brush, it's made out of taklon so it's great for applying liquid and cream concealers. I also spray a bit of the Aquafina Facial Hydrator Spray (Alyssa it's in the facial moisturizers aisle along with the acne products) on the bristles to dampen it a bit so it's not too stiff, and then apply my concealer or even along with my MAC Paint Pots to apply them as my base.




EYELINER BRUSH:
The flat top eyeliner brush (aka push brush) is great for applying gel eyeliners such as the Indelible Gel Eyeliners, or MAC Fluidlines. Gently dab across your upper lashlineall the way across (hence the push). I use Essence of Beauty travel eyeliner brush because it too is also double-ended, with a tiny eyeliner brush on the other end which allows me to wing my eyeliner.

THE SMUDGIES: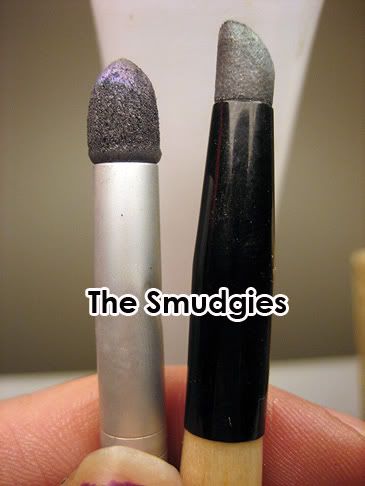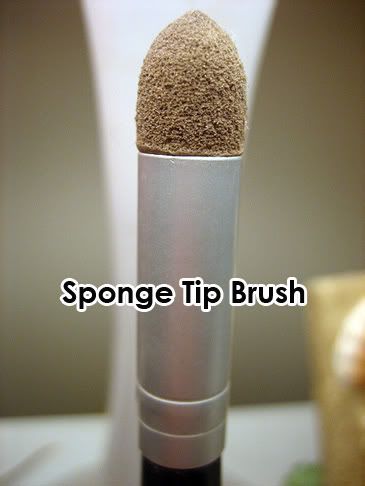 Top: Studio Tools Smudge Brush and Essence of Beauty Sponge Smudge Brush
Bottom: Sponge-tip applicator brush

The smudgies! Isn't it just a cute name??? They are great for just that- smudging! I use it to smudge the upper lash line when going for a smokey look, or smudge the lower lash line for an ultra sexy sultry look and to give your peepers more definition and to open up the eye.

The sponge-tip applicator brush is great for touching up on concealer as well as foundation in case there are spots you need to touch up.