So I went to a birthday/halloween party last weekend (where I also did makeup on 2 people, hopefully she'll send me the pics), anyway, I didn't buy a costume for it since I had no time, so I just did my makeup to match fairy wings I had. I also used falsies that had tiny gems or rhinestones on them...

Also, Christiana (thanks girl!) found a new mineral make-up site where you can CREATE your custom-blended mineral foundation! I checked it out and it's pretty neat, I think I am going to order some samples and see if it works for me. www.silknaturals.com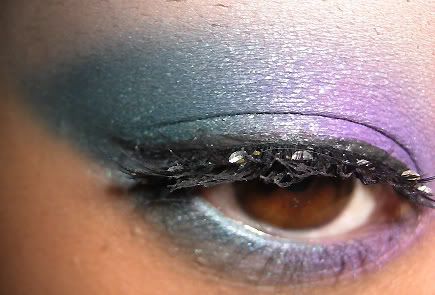 What I used:

Eyes:
- Ardell False eyelashes from Sally's w/rhinestones
- Viz-a-Violet and Violet MAC Pigments
- Makeup Forever Purple eyeshadow
- Everyday Minerals eyeshadow in "Bundle" and MMBB "highlights" as the highlight and all over lid color.
- Teal Pigment
- Covergirl eyeshadow (forgot the name, but it's a shimmery teal color)
- L'Oreal Telescopic Mascara

Cheeks:
- MAC Blush in "Dollymix"
- MAC Tectonic as highlight

Lips:
- MAC "Snob" under "Masque" lipstick
- Sephora #206 pencil
- 3D lipglass (MAC) in "Lightswitch"