Some of you gals may not know this, but artist/craft brushes are just as good as actual makeup brushes (not the hard stiff ones), but American Painter and Loew-Cornell are both awesome brands for craft brushes. I bought a couple 2 years ago and used them to apply my eye makeup after noticing they were similar to some of my actual makeup brushes! And right now, Michael's Craft Store is having 30% OFF on ALL their Loew-Cornell Brushes! So check them out! I went today and got a really cute pair of brushes that have a CLEAR handle with silver glitter "floating" inside! How cool is that! I nabbed an angled taklon brush which I might use for either applying my pigments foiled (wet), or regular eyeshadows, and the other is a tiny eyeliner brush to perfect winging out eyeliners. Then I dropped by CVS to get travel stuff for my upcoming trip and ended up picking up an angled contour brush as well!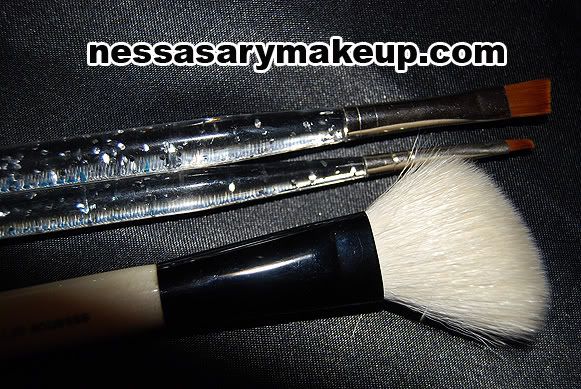 Now for my product review, SILK NATURALS CUSTOMIZABLE MINERAL FOUNDATION:

Packaging: 5 out of 5 stars!
Shipping Time: 5 out of 5 stars!
Overall: 4 out of 5 stars!

I actually like Silk Naturals a lot, it's just a matter of me learning how to be a mineral foundation chef and finding the right amount of ingredients to make the dish WOW! First of all, I LOVE the ability to customize MY foundation to MY OWN skin tone, I can adjust it as I please, making it lighter or darker if I wanted to; and that is definitely a power that's nice to have because who knows your skin better than YOU DO! I put 8 scoops of the white powder and ONE, let me re-iterate, ONE SCOOP of Ebony, and that baby gave me a tan look! Not in a bad way, I actually like how it gave me a little color and made me look human in pictures rather than Casper the friendly ghost's long lost cousin....but you just have to be super careful because ebony is darrrrrrkkkk! So if you put even the slightest bit TOO much, you are gonna have dark foundation! You also have to perfect the application by buffing it evenly in circular motions, as if you concentrate too much on one spot, it will start to look patchy.

Here is the white powder first:



Then the EBONY, see how dark it came out??!! But it's not that dark on your skin, thank God!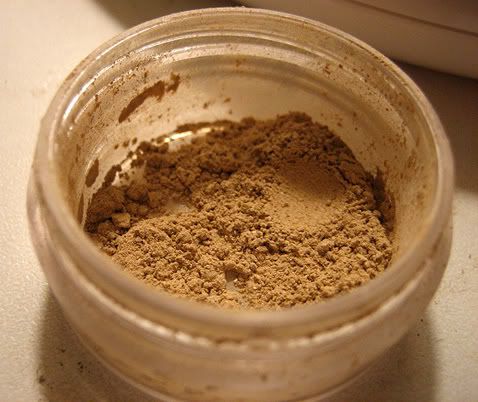 The result (and yes I finally showed/did my hair! I love when it curls at the bottom):

(sorry for the cheesy smile)

But it actually did a good job of matching my neck eh??? I am quite happy with it, meaning Miss Vanessa might be ordering the full-sized one! ;)

Thanks again to Christiana for the heads up, she is my girl when it comes to mineral makeup!